"In The Good Wife and the Other Woman, she candidly shares her experiences. With a humorous bend, she talks about marriage, infidelity, and how to keep a relationship strong for the long haul. Her story is captivating. In the midst of her trials, sorrows, fears, and tears, she was able to rise above it all with the help and support of the Lord, whose hands carried her through."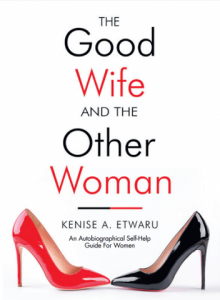 The new book is written by Author Kenise A. Etwaru that is to be released in this January 2019. The book is more of a creative and emotional background. On the bottom of the book cover, the Author has quoted that it is a self-guidance book for women. It is basically an Autobiological self-help book. The book is available online on both Amazon.com and at www.keniseetwaru.com for the general public to order online.
The author said that the book is completely interesting as it shares her life experiences in a very humorous manner. She writes about the importance of relationships and how to be strong during times of adversity. Her book compiles all of her emotions such as happiness, sorrows, fears, tears and tough times she faced after her marriage ended.
The book uniquely represents how a woman could groom herself to solve challenges in life while continuing to pursue her destiny. Kenise enumerates on the pain and determination to release her new real-life story turned into a book. The cover page and title of the book is attractive, the book is at a minimal cost, it has great language and is a very useful guide.
About
Kenise was raised as PK (Pastor's Kid), she spent most of her childhood traveling with her parents who are full-time Pastors and Missionaries from Guyana, South America. At the age of 9, she and her family migrated to the United States. She is a seasoned human resources executive, motivational speaker, recording artist, songwriter, musician, and entrepreneur. Kenise lives in Long Island, New York and serves at her parent's church in Queens as a board member and minister of music.
Media Contact
Contact Person: Kenise Etwaru
Email: [email protected]
Phone: (631)-672-0437
City: New York
Country: United States
Website: www.keniseetwaru.com