Ice-T's Wife Coco is a 12″ Posable Action Figure with "Real Synthetic Skin" Based on the Comic Book Gekido by BeyondComics.TV Creator Graig Weich & B.Wilson from TV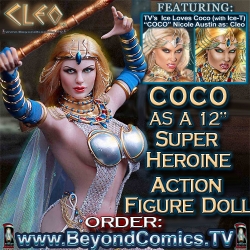 New York, NY, September 15, 2017 –(PR.com)– Ice-T's wife Coco is now officially licensed as the world's 1st fully posable 12" action figure with real synthetic skin (and 28 points of articulation with a steel frame skeleton inside the figure) released today, worldwide, based on the comic book, Gekido, she appears in as the empowered new super heroine "Cleo" from BeyondComics.TV – created by celebrity artist of the stars comic book creator Graig Weich (HBO UAS Award Winning Director & Poster Artist of #Spawn #30 from Image Comics (The Walking Dead) with written-creator Brandon Wilson).
They've been seen on TV on AMC's #ComicBookMen E! Entertainment Television's Ice Loves Coco, The Huffington Post, Howard Stern Show, CNBC, Fox and 20/20 ABC News.
Coco: "It is really cool being cast as Cleo, the new Superhero! When Graig Weich told me he wanted me to play his heroine, it was so cool!"
Graig Weich: "It's really an honor to have Coco be a part of the Beyond Comics Universe of Heroes I've created (along with Gekido and Cleo co-creator, writer Brandon Wilson) and to immortalize Coco as our guest star; Cleo. I love seeing the child within us all come to life when our fans express such joy from our work. When I donate my art to help raise money for charities for children and animals in need, it's very fulfilling to see the kid's eyes light up when they see my super heroes come to life."
(Contact them to set up an interview & for high resolution photos at: BeyondComicsFans@yahoo.com.)
The Cleo #ActionFigure #doll is for #collectors , and is an exclusive limited edition item that comes with the #ComicBook she appears in, by #BeyondComicsTV , #TBLeague & #Phicen the #ActionFigures #Dolls Company.
– Pre-Order/Buy the Figure & Signed Comic at: www.BeyondComics.TV
– Video Clips (copy & paste them into a browser):
1) Coco as Cleo the Action Figure: https://youtu.be/xfjp20b8Ly0
2) Coco at #ComicCon dressed as Cleo live: https://youtu.be/S3VETb_wbg0
3) Press Reel of Clips of #Coco as #Cleo & #GraigWeich on ALL THE TV: https://youtu.be/AAxbN5PZyL0
Follow (Artist/Creator Graig Weich):
www.Instagram.com/GraigWeich
www.Twitter.com/BeyondComics
www.YouTube.com/BeyondComicsTV
www.FaceBook.com/GraigWeich
– Contest: "You may be drawn in our next comic book. Enter at: www.BeyondComics.TV "
– Cleo has the power to control the minds of men to do her bidding and she can shape-shift into any female and take on their appearance and powers to disguise herself. No one knows what Cleo really looks like. She must fight the assassin, #Gekido , she loves to hate and hates to love but #Ravedactyl , #Tricity ( #AdrianneCurry ) and #CodeNameJustice will team up with them to help fight #LordShinryu (starring #CaryTagawa ) and #Sunder in a war to save the world from them and their cult ninja clan before time runs out.
Coco dressed up for #NewYorkComicCon for #Cosplay as a #Cosplayer meetings fans as Cleo from the #BeyondComics booth there which was shown on TV's #IceLovesCoco .
Other big name superhero figures sell for nearly $300 or higher, so the Cleo figure's price point is less expensive at $219, plus Cleo has #SyntheticSkin . #ComicBookArtist Graig Weich said how much he loves #Comics and that he was honored to have met #Marvel Comic's creator #StanLee at #NYCC . Not since #MarvelComics #BlackWidow and #DCComics ' #SuperGirl with #WonderWoman have there been an all new heroine like Cleo.
Meet Artist/Creator Graig Weich at #NYComicCon2017 in October at the TBLeague – Executive Replicas Booth at #NYCC2017 for #ComicCon .
E-mail them below to set up an interview:
Spotlight PR
Toni S. Asst rep for
Graig Weich of
BeyondComics.TV
Contact Email: BeyondComicsFans@yahoo.com
Contact Information:
BeyondComics.TV
Graig Weich
212-971-1180
Contact via Email
www.BeyondComics.TV
Best to e-mail for fastest reply.
The figure and signed comic can be ordered at:
www.BeyondComics.TV
Read the full story here: http://www.pr.com/press-release/730067
Press Release Distributed by PR.com