Silicon Valley, CA – Artificial Intelligence startup AnKobot announced the launch of its newest robot vacuum cleaner Amarey K900 at the Global AI Forum at Stanford University on Friday.
The Shanghai and Silicon Valley dual-based company has received over $28 million investment from investors including Fosun Group since it was founded in 2016 and is dedicated to bringing artificial intelligence and robotics technology to daily life.
"We see Amarey K900 go beyond vacuum cleaner space and into a broader home robot space, with our new AI techniques, consumers can get not only a vacuum cleaner but a moving robot security guard, and a moving intelligent speaker," AnKobot's co-founder and CTO Yuwei Cui told TV journalist Vivi Lin, the moderator of the forum, during the AI forum.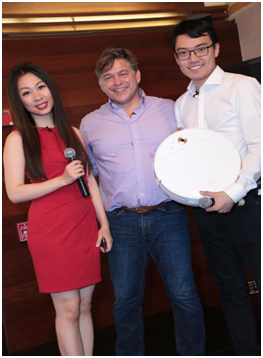 Vivi Lin (left), Jochen Kumm (center) and Yuwei Cui (right) at AnKobot Global AI Forum and Amarey K900 Launch Event at Stanford University
The forum "Global AI Panel: The Future & Challenges of AI & Robots," has featured panel speakers include Yuwei Cui, CTO of AnKobot and computational neuroscience Ph.D.; Jochen Kumm, CEO of Pr3vent, Stanford Ph.D. and former head of Healthcare at IBM Africa and Vivi Lin, TV journalist and startup advisor on innovation, who organized the event despite the current trade war between the United States and China.
"It's more important than ever for the leading players in the tech and business communities from China and United States, such as AnKobot, to communicate with each other and exchange insights, especially under the current political climate," said Vivi Lin.
The event has attracted Silicon Valley's leading venture capitalists and entrepreneurs in the AI space in the hope of seeking insights and solutions to tackle the challenges facing the AI and robotics space.
Consumer and business robots market is thriving worldwide according to HTF Market Report, but challenges remain as numerous well-funded AI startups died in the past year, including the popular consumer robotics company Anki.
One of the biggest challenges is adopting the complex AI techniques to consumer products with real user case at controllable costs.
"For K900, we have made tremendous efforts to compress and optimize our algorithms to make our robot run on low-cost chips, with most advanced computer vision and AI models, to bring features such as 360 degrees panoramic visual imaging, 3D obstacle detection, visual SLAM, gesture interaction, human pose estimation, and the map memory function to the products, so that K900 can use the logic of human to clean the house," said Yuwei Cui.
The algorithms Ankobot has developed for Amarey K900 enable the product to understand its environment comprehensively, including being able to detect dangerous obstacles, recognize familiar family members and respond to gesture controls, according to AnKobot, which is what made Amarey K900 stand out from competitors, including iRobot, a listed AI company in consumer robots.
"I anticipate the robot will do much more than vacuuming in the future and become a member of the family as a personal assistant and a key player in the coming era of AIoT. For example, techniques such as human posture estimation can give rise to features like fall detection, which are important in the elderly care space," Yuwei Cui told Vivi Lin, When asking about the outlook of the consumer robotic space.
"We believe the home robot is the future. We will focus on this area and bring state-of-the-art AI and Robotics to products that are useful to millions of families," said Cui.
To learn about AnKobot, please visit AnKobot.com.