Stanley Black and Decker Partners with Reebok HQ to Raise Awareness for Boston Dress for Success and Girls At Work Charities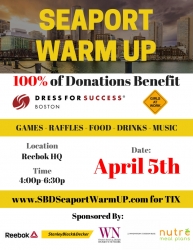 Boston, MA, March 29, 2018 –(PR.com)– The Seaport Warm Up, hosted by the Boston Chapter of Stanley Black and Decker Women's Network, is a two-hour networking and social gathering for professionals throughout the Seaport Business District. As global companies such as General Electric, Continuum, Autodesk, Amazon and now Reebok make Boston their new home base for operations, the Seaport Warm Up hopes to merge these billion dollar companies with the innovation and education platforms in the city – all while giving back to the community. For minimal donations, guests are welcomed with food, an open bar, music as well as great prizes and raffles. What is greater – 100% of every donation given goes directly to the charities supported as the sponsor companies are underwriting the cost of the event!
The event; which features food, music, drinks and raffles will be hosted at the new Reebok Flagship store at the Innovation and Design Building. Kyle Gordon, Reebok's Senior Manager, Retail B2B and Events, was ecstatic with the opportunity to include Reebok as a sponsor and open the Flagship store to host the Seaport Warm Up on April 5th. In addition to hosting, Reebok is offering a 30% discount on all merchandise purchased in store during the event as a thank you to all who are donating their time and resources for this great cause.
"We are so proud to partner with these fantastic organizations that empower women every day. The WN Boston Chapter works hard to contribute to Stanley Black & Decker and our own communities, understanding that bringing people together and supporting each other is a powerful step forward," says Susannah Hamblin, Chair of the Stanley Black & Decker Woman's Network.
"At Stanley Black and Decker, our purpose For Those Who Make The World isn't something we just say. It's who we are and how we do things every day. We believe that by joining forces and coming together as a community that we truly change the world," says Spencer Maid, Vice President of Innovation for Stanley Black & Decker.
With a focus on building a health-conscious eco-system, Stanley Black & Decker turned to Nutre Meals to provide a healthy yet tasteful spread for all the donors. Nutre Meals is a Boston based Meal Delivery service launched by three brothers who wanted to create healthy alternatives to their family's favorite dishes. Inspired by their father's health challenges with diabetes, the brothers worked with restaurant chefs to create an extensive menu for those looking to eat balanced and healthy meals – while not sacrificing the taste.
Stanley Black & Decker's Women's Network invites everyone in the Greater Boston area to join in on this fun and purposeful networking event. Doors open at 4:00pm on April 5th and any donation size is appreciated. Come Socialize, Shop and most of all support the great endeavors of Boston Dress for Success and Girls At Work. For more information about the event, the location and the supported charities, visit us online at www.SBDSeaportWarmUp.com.
Event Details:
Reebok Flagship Store – 25 Drydock Avenue, Boston, MA 02210
Thursday, April 5th, 2018 – 4:00pm – 6:30pm
Contact Information:
Stanley Black and Decker
Christopher Pina
401-743-1044
Contact via Email
sbdseaportwarmup.com
Read the full story here: https://www.pr.com/press-release/749246
Press Release Distributed by PR.com