Calling all trail blazers, trend setters, pioneers, innovators and groundbreakers. The Forerunners are here!! For the 1st time in History, over 100 women were elected to the United States House of Representatives. Listen, that's NOT a coincidence in Dr. Regina Martin most anticipated book it reveals the "Age of the WOMAN" before the second coming of Jesus Christ. If you are ready to fight a good fight, learn how to break generational curses, and walk into your promise land… then this book is for you!
This book speaks about the women that were before our time and how they overcame obstacles to dominate their circumstances.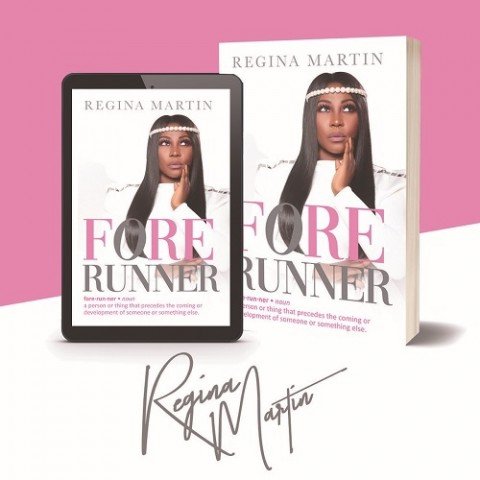 The Prophet Dr. Apostle Regina Martin is known as the "The Apostle of Prayer". She is a native of South Florida, a mother of two beautiful daughters Olivia and Jazzmin Carter. An Apostle, an Entrepreneur, a Global speaker, a Patron, the Senior Pastor of the Embassy Church of South Florida, founder of The Embassy Academy K-12 private school (which was nominated as a school of the year) and Embassy College. She is also the Founder of the fashion enterprise House of Babydoll.
With the push of her former leader Apostle Maxwell, the Lord led Apostle Martin to the ministry of prayer and deliverance, where she established her initial center to serve God's people allowing miracles, healing, and signs to be birth. She has no regrets in answering the call of God; however, by no means has it been easy raising two daughters, pastoring hundreds of congregants and mentees. Dr. Martin continuously finds time to pour into others. She is a woman of prayer, passion, and integrity. She often says she could not do this without the presence and power of God.
In 2016, she earned her Doctorate in Theology from Galilee Bible Theology School- institute. On May 3, 2019, Dr. Martin was honored on Capitol Hill, where she received the Honorary Degree of Doctorate in Christian Business Leadership from the United Graduate College and Seminary International and on May 26, 2019, she was presented with a Proclamation from Broward County Florida and that day was designated as "Dr. Apostle Regina Martin Day". However, her success does not stop there. Dr. Martin has been the guest speaker of different local radio and international T.V stations; such as The Word Network, Impact Network, Atlanta Live and she now has her very on Show airing live every Sunday on Island TV. She is also the author of "The Spiritual Warfare Manual," "I Decree, Declare and Demand," "I Owe Him Everything "and several upcoming books like the "Forerunner". She's been featured in several articles; such as the Huffington Post, the cover of Kish Magazine and the Kish Corner as Woman of the Year.
As impressive as Dr. Martin accolades sound, her love for God and his people are her drive and the focus of everything that she puts her hands to. She is a firm believer that promotion ONLY comes from God (Psalm 75:6-7).
Media Contact
Company Name: Regina Martin Ministries
Contact Person: Dr.Regina Martin
Email: Reginamartinintl@gmail.com
Country: United States
Website: http://www.forerunnersfl.com/