Breaking: Lava Covers Coral Reef in Hawai'i as Local Filmmakers Try to Preserve Reefs Worldwide Through Their Short Film "Reefs at Risk"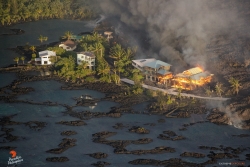 Hilo, HI, June 06, 2018 –(PR.com)– Filmmakers Malina Fagan and Lynn Pelletier will launch a short film "Reefs At Risk" online for World Oceans Day on June 8th to help educate the public about the harmful effects some sunscreen chemicals have on coral reefs, marine life and people. Their goal is to help preserve coral reefs for future generations to come. This comes at a very sad time, as the lava flow from the Kilauea eruption covered Wai Opae tide pools yesterday morning, completely destroying one of Hawaii's most beautiful coral reefs, which is seen in the film. Although the filmmakers are grieving the loss of this beautiful reef, they hope their film can help preserve other coral reefs from damage caused by sunscreen pollution. They will be releasing a reef safe sunscreen guide along with their film so consumers know which brands are safe to use.
Reefs At Risk Film:
Set on the beautiful beaches of Hawaii, "Reefs at Risk" explores the harmful effects some sunscreen chemicals have on coral reefs and marine life. This timely film takes viewers underwater to explore the beautiful marine environment and follows those on land trying to protect it. The film also questions the effects these chemicals have on humans and presents safer alternatives consumers can use to protect themselves and the reef. This issue is not just relevant to people living in coastal areas or visiting coral reefs; the use of these products inland can also pose harm to the environment by making their way through rivers and streams and out into the ocean.
Sunscreens and Coral Reefs:
Coral reefs are dying at an alarming rate. Why should you care? Coral reefs protect our shores and supply food and oxygen to our planet. They are considered the "rainforests of the sea" and home to 25% of marine life. Scientists estimate that 50% of the world's coral reefs have been destroyed and others are in danger of disappearing in our lifetime. Although there are many factors contributing to the destruction of coral reefs worldwide, one we can easily eliminate is toxic chemicals in sunscreens. Research published by the Haereticus Environmental Lab has shown the UV chemicals oxybenzone and octinoxate can cause skeletal deformities and death to coral larvae, damage DNA, reduce coral's ability to reproduce, and cause coral to bleach at certain concentrations. With this knowledge, filmmakers Malina Fagan and Lynn Pelletier created a short 5-minute film to bring this issue to a wider audience and encourage the use of reef safe sunscreens and sun protective clothing.
Legislation to Protect Hawaii's Reefs:
Legislation to ban the sale of sunscreens with oxybenzone and octinoxate in the state of Hawaii was recently passed and will take effect on January 1st, 2021. This bill, which is the first in the world, will protect coral reefs and marine life not just in Hawaii but worldwide as it will encourage sunscreen manufacturers to reformulate using safer ingredients. Governor David Ige will sign SB2571 into law on July 3rd at Hanauma Bay, a nature preserve on Oahu which receives over 3,000 visitors a day and an estimated 150,476 pounds of sunscreen going into the water each year. We thank our leaders for this victory and hope other states and countries follow.
About Fagan Films:
Started in 2014, Fagan Films is a Hawaii based film production company lead by mother-daughter filmmakers Lynn Pelletier and Malina Fagan. Last year they received a grant from the Redford Center (located in Sundance, Utah) to produce Reefs At Risk, which has been screened internationally and is on all intercontinental flights on Hawaiian Airlines. Fagan and Pelletier are currently working on a feature film called "THE COVERUP" about the toxic chemicals in cosmetics and personal care products and their effects on our health, the environment and future generations. To learn more and see a work-in-progress trailer visit www.thecoverupfilm.com
About Reef Safe Partners:
Fagan Films has partnered with the following companies who make reef safe sunscreens from all natural ingredients like non-nano zinc oxide and/or titanium dioxide. These minerals effectively block UV rays from entering the skin and causing damage.
These eco-conscious brands avoid a long list of harmful and questionable ingredients used in many sunscreen products currently sold on the market. (These chemicals include; oxybenzone/benzophenone, octinoxate, octisalate/octocrylene, homosalate, avobenzone, ethylhexl methoxycinnamate, parabens, "fragrance," and retinyl palmitate.) As Jeff Bagshaw from the Hawaii Department of Land and Natural Resources says, "If you can't say it, don't spray it."
Visit www.ReefsAtRisk.org to see our short film and download a reef safe sunscreen guide.
Contact Information:
Fagan Films
Malina Fagan
808-990-4086
Contact via Email
www.ReefsAtRisk.org
Read the full story here: https://www.pr.com/press-release/755844
Press Release Distributed by PR.com