"Art to Me Was My Way Out" Says Rosalba Llenas. Once an Immigrant Born Into Poverty, But Today She is One of the Most Sought After Interior Designers in the US.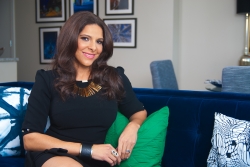 Aldie, VA, July 21, 2017 –(PR.com)– Foreign born entrepreneur and expert interior designer, Rosalba Llenas is quickly becoming known throughout the Washington Metropolitan area for her boldly stylish and ultra-modern design aesthetic. Llenas, the visionary behind the dazzling designs at Mason Social, a buzzy contemporary American restaurant and the Ascend Apollo, luxury resort-style Apartments, actually credits her signature captivating colors and fresh outlook to her meager upbringing in the Dominican Republic.
"Growing up in a barrio – people didn't have much of anything let alone items to decorate their homes. But what they lacked in décor, they made up for with color. Even if the floor was concrete, they would enhance the plain cement by adding coloring. The walls, doors, even the buildings themselves were all a bright, fun, kaleidoscope of colors," said Llenas.
But when the aspiring immigrant first arrived in the US in 1987, moving from her colorful Caribbean home to the stark slate skyline of New York City, she was admittedly saddened to see that the surrounding architecture was almost completely gray and seemingly lifeless. Much to her surprise however, she was shocked to learn that inside the dull walls were trendy, rich and refined interiors – the likes of which she'd never seen before! That feeling of excitement and discovery was instantly etched into her memory and is still a source of inspiration in her designs today. Drawing from this unique mix of her Dominican roots and the impact made on her from the renowned NYC design style which she continued to perfect during her studies at The School of Visual Arts, New York, NY, Llenas strives to always create spaces that incorporate both elements ensuring that every design is memorable and exciting. "I really believe the spaces tell me what they want to be. As I design I am always thinking, how are people going to feel in this space?" She now spends every day at her firm, Vidazme in Northern Virginia, dreaming up thoughtfully designed interiors that use color and bold art to generate a playful twist in modern design for her many clients all clamoring for her unique flare.
But it isn't just the color and feeling Rosalba has infused into her designs from her Dominican culture. Having to make some of her own toys as a child due to her underprivileged upbringing, also helped nurture her seemingly endless creativity and a resourcefulness you simply don't find in other designers. It's a priceless skill that helps her work wonders with finding interesting, unique and unexpected materials that help maximize budgets. "Rosalba knows where to spend the money in a room, which makes way for great savings on other details," said Peter Schwartz, President and Developer of the Luxury Apollo Apartments. The results speak for themselves and can be seen in Vidazme's promotional videos which were released to mark the anniversary of Vidazme's fourth successful year in business.
Video links about Llenas: https://vimeo.com/195472273
Portfolio: https://vimeo.com/206448088
"It's been a whirlwind, but I couldn't have asked for more. Within my first year I was securing huge deals – 400-unit multi-family contracts that normally would have been awarded to much larger and more established firms," reminisces Llenas.
The Dominican design guru is also very active in her community and enjoys schools and speaking to the kids, particularly immigrant teens. She hopes that her story motivates them to pursue their dreams no matter how impossible they may seem. "If you have true passion, nothing can stop you."
As for the future, Llenas wants to take her business international. She loves to travel and is excited to see how her future ventures abroad might add to her already inspirational designs.
For more information about Rosalba Llenas and her company Vidazme, visit www.vidazme.com
Press Contact:
Lynn Whightsil, Phone: 240-688-8915, www.himiia.com
Contact Information:
Lynn Whightsil
240-688-8915
Contact via Email
Read the full story here: http://www.pr.com/press-release/724210
Press Release Distributed by PR.com